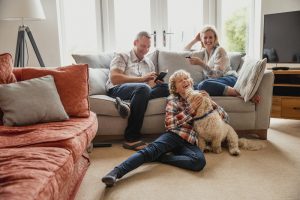 Finding a great way to keep your home cool during the summer can be a little tricky—there are just so many options to choose from! However, there is one system, in particular, that stands out from all the rest: the ductless system.
Ductless systems, or ductless mini-split systems, are super-efficient, highly effective, and are well-known for their ability to provide year-round comfort with just the flip of a switch [Oops! Spoilers!] Below, we have listed just some of the many reasons why you should consider having one of these systems installed in your home. All you've got to do is keep reading below to find out more! 
What is a Ductless System?
As its name implies, a ductless mini-split is a heating/cooling system that does not rely on a network of ducts. Instead, it utilizes one outdoor condenser unit which is connected via refrigerant lines to air handlers that are installed throughout the home. A ductless system works much like an air conditioner, moving heat from one place to another. A reversing valve is all that is needed to switch the flow of refrigerant, allowing for summertime cooling and wintertime heating. To cool the home, heat is absorbed from indoors and moved outside, and to heat the home, heat is absorbed from outside and moved indoors.
Are There Any Benefits?
There are plenty of benefits of a ductless system, including:
Versatility
Because ductless systems are a type of heat pump, they are able to both heat and cool your home with just the flip of a switch, making them one of the most versatile systems on the market today!
Convenient Installation
Installing ductwork can be a difficult and expensive process depending on the layout of your home. Some homes might not have the space for ductwork, so a ductless system can be a great alternative. Installing a ductless system is less invasive, cheaper, and can be completed in as little as one day.
Cost-Effective
Why worry about servicing two different HVAC systems? When you go ductless, you will no longer have to repair, maintain, and replace both a heater and an air conditioner.
Energy Efficient
Because ductless systems do not rely on a network of ducts, they avoid the energy losses associated with duct leaks. A breach in a forced-air system's ducts can account for more than 30% of energy waste. A ductless system can save you a ton of money on your utility bills.
Call a Professional
If you are interested in having a ductless system installed in your home, be sure to call a professional HVAC contractor in Falcon, CO. Professional installation is key to ensuring that your new system works efficiently and effectively for years to come, so you don't want to trust these services to just anyone. Your service professional will see to it that your new system is properly sized and installed, keeping you cool and comfortable all summer long!
To learn more about the benefits of a ductless system, contact the team at Robbins Heating & Air Conditioning today!