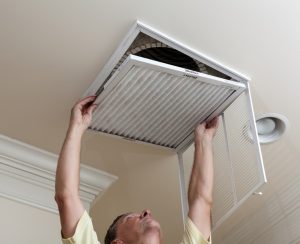 It's kind of like when you say, "Oh, I will just get gas on my way to work tomorrow!" We all know that you aren't going to want to do it then, so why not just do it the night before and save yourself the time?
The same principle applies to your air filter! We can't stress enough the importance of regularly changing out your air filter—it's a simple way to ensure that you get the most out of your system. In fact, there are a number of ways a clean air filter will benefit you, and below, we have listed some of these ways for you. All you've got to do is keep reading to find out more.
So, Why Should You Replace Your Air Filter?
There are a number of reasons why you should replace your air filter:
Better Energy Efficiency
By changing your air filter every 1-3 months during the summer, you are sure to experience better energy efficiency. This means that you'll be paying less money to keep your home cool and comfortable during the time of year you depend on your system most.
A clogged air filter makes it quite difficult for your AC to circulate cool air throughout your home, which forces it to use more energy than it normally would. This is what causes your energy bills to sky-rocket, effectively draining your wallet. Of course, we don't want that to happen, so it's in your best interest to regularly change the filter.
Less Wear and Tear
A clogged air filter can certainly put a lot of strain on your air conditioner. The harder your AC has to work to do its job, the more wear and tear the system will accrue. Of course, this unnecessary strain can cause all sorts of operational issues and damages, and in worse case scenarios, a dirty air filter can lead to a full system breakdown.
Simply by changing out your air filter, you can avoid these issues altogether!
Improved Comfort
When your air conditioner can no longer do its job effectively, you are sure to experience some discomfort. During a hot summer, the last thing you would want is an AC that can't cool your entire home. Of course, changing out your air filter before your AC struggles is a great way to avoid this uncomfortable situation.
Also, a clogged air filter can also reduce your indoor air quality, aggravating illness and allergy symptoms. When the filter is blocked, dirt is forced around it and may eventually end up inside your home.
Contact Your Local HVAC Pros
Changing your air filter is certainly something you can do on your own, but if you need help locating your air filter or replacing it contact your local HVAC contractor in Colorado Springs — they'll gladly show you the ropes! Do not hesitate to call — it's always better to be safe than sorry!
To schedule your air conditioning services, contact the team at Robbins Heating & Air Conditioning today. Home and commercial comfort efficiency.