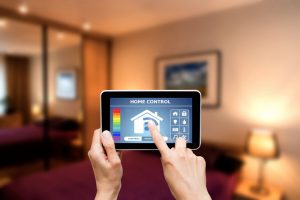 Floppy disks, brick-sized cellphones, VCRs, even DVDs all have something in common: they've become obsolete — and for good reason! These technologies, though state-of-the-art in the '90s and 2000s, have been replaced by newer, smarter devices! The floppy disk has been replaced by the Cloud, VCRs have been replaced by online streaming services, and old, manual thermostats are quickly being replaced my smart, Wi-Fi connected thermostats!
Many homeowners are making the switch to smart thermostats, and we think that you should too! There are many benefits of upgrading, and below, we have listed some of these benefits for you. All you have to do is keep reading to find out more!
Benefits of a Smart Thermostat
You'll be able to take advantage of quite a few benefits when you upgrade to a smart thermostat, including:
Saving money: A smart, programmable thermostat allows you to preset certain temperatures for certain times. For instance, you can set the thermostat to lower temperatures automatically during the night or while you're at work. You could save up to 10% per year on heating and cooling costs just by setting an appropriate temperature.
Convenience: Some smart thermostats are able to create programs on their own, so you don't have to think too hard about how to best adjust the temperatures in your home.
Wi-Fi Capabilities: By connecting your thermostat to your home's Wi-Fi, it can be controlled from anywhere in the world with an app on your phone or tablet. No more running up your utility bills if you forget to turn off your AC before leaving for work.
Environmental Adjustment: Many updated thermometers have the ability to analyze local weather conditions outside your home and make adjustments based on heightened humidity, unexpected temperature fluctuations, etc. It helps preserve a cool, comfortable temperature in your home without wasting energy.
So, Call in a Professional
If you are interested in upgrading your thermostat, consult with your local air conditioning expert in Colorado Springs! Only a professional has the experience and expertise to match you with the system that is going to best meet your unique comfort needs.
Once you've chosen the right thermostat for your home, you must make sure that you have it professionally installed. Professional installation is key to ensuring that it sees a long and successful service life. Additionally, your technician should be able to teach you how to use the thermostat correctly to increase cooling efficiency.
Remember, there are going to be plenty of amateurs willing to service your system, often for a fairly cheap price. However, it is likely that an attempt to save money will end up costing you much more in the long run. It is better to call a professional and get the job done right the first time around. Fortunately, the team here at Robbins Heating & Air Conditioning is here to help you with all your home comfort needs!
To learn more about the benefits of upgrading your thermostat, contact the team at Robbins Heating & Air Conditioning today!