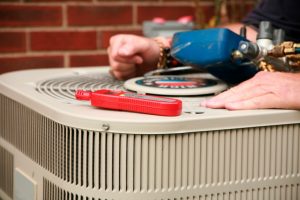 Midseason summer air conditioning system breakdowns are the worst. You're enjoying a reprieve from the hot, humid summer in an air-conditioned home, when you suddenly have to drop everything to call a technician and/or find a temporary way to stay cool. The unexpected cost adds to the frustration, especially if you learn the issue may have been preventable.
Preseason air conditioning maintenance helps to prevent your AC from breaking down when you need it most, and it provides some other surprising benefits as well. Call us to help protect your air conditioner in Colorado Springs this fall.
What's AC Maintenance?
Air conditioning maintenance is a service designed to get your air conditioner back to peak operating performance. A technician may not be able to get it back to factory conditions, but systems that receive regular maintenance may maintain about 95% efficiency over the course of their recommended lifespan.
Sometimes, the technician shows up, makes a few adjustments, and leaves. Other times, you may need to schedule a separate service to address any issues with the AC system. In any case, your air conditioner comes out in better condition than it was before.
Let's look at some of the standard steps of a maintenance appointment.
Inspection: Technicians have specialized tools that allow them to get a thorough overview of how well the system is working. Using a checklist as a guide, the technician records information about voltage, refrigerant pressure, thermostat calibration and more, and reports back to you. You'll learn of the current condition of your AC and whether anything needs repair.
Adjustment: Some components of your air conditioner need adjustment from time to time to run smoothly. If any little thing seems off—say a loose screw or wire connection, or a motor that needs lubrication—a technician may be able to make that adjustment right then and there.
Cleaning: Some components of the AC system need to be cleaned to run smoothly. A technician might remove debris from the blower wheel and may even change the filter. The outdoor coil must also be clean to continue the refrigeration process.
Why Should You Schedule AC Service So Early?
The weather may not be as warm as we've dreamed of just yet. However, you shouldn't wait until it is warm to start thinking about your AC. The best time to schedule routine service is before you ever need to use your system. That way, your air conditioner will be just right before the season starts up.
Avoid summer AC breakdowns, when you need your system the most.
Potential increase to AC efficiency, meaning lower bills throughout the hotter months.
Fewer repairs after a tune-up—less likely that you'll run into problems with performance.
Don't wait until summer comes around before scheduling service for your AC system. Call air conditioning technicians in the spring, when there is likely greater availability and technicians have more time to make an appointment that works for you.
Robbins Heating & Air Conditioning is your go-to company for air conditioning maintenance this spring. Contact our team today!