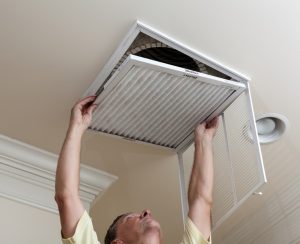 This year, like every year, your family's health is a priority. However, it can be difficult to tell just what your family members need to stay healthy, especially throughout spring and summer once allergies start to act up.
Indoor air quality is one of the biggest concerns for your home, considering you spend 90% of your time indoors. We've found it's useful to go through a checklist of things your air quality may need to stay healthier during the spring and summer months, so we've provided our advice on improving indoor air quality below.
Daily and Weekly Tasks
To keep your home's air healthier, you may need to make some changes around the home. What you do daily and weekly can really make a difference to your air quality and to people in the home who suffer the most from particulate cycling in the air.
Regularly vacuum, sweep, and/or mop flooring.
Regularly dust and clean surfaces.
Remove shoes upon entering the home.
Bathe pets weekly.
Change clothing when you get home from activities involving time spent outdoors.
Try not to use harsh chemicals for cleaning whenever possible.
Routine Home Maintenance
Then, there are those tasks that may not need daily or weekly completion, meaning they are easily forgotten. Pencil these into your calendar, set reminders on your phone, and make sure you have the supplies you'll need for these routine home air quality maintenance tasks.
Change air filters in your heating and air conditioning systems every 1-3 months.
Test smoke detectors every month.
Replace smoke detector batteries every 6 months. (Many people remember this by replacing batteries during daylight saving time.)
Periodically inspect the home for signs of water damage or water leaks.
Professional Maintenance Tasks
For some tasks that help to improve your indoor air quality, you may need a professional to do the work. That includes services such as the following:
You should call an inspector and remediation company at the first sign of mold.
Schedule routine air conditioner maintenance to clean off the coils in the system, along with the drain pan, and prevent the development of mold and mildew. You should do this annually.
Call a technician if you notice strange smells from the vents.
Consult a technician before making any changes to an HVAC system.
Be sure to cover air vents during a major home remodel. Make sure you work with a quality contractor who will know how to protect your home and air quality.
Indoor Air Quality Installations
Finally, scheduling an indoor air quality installation, such as an air filtration system or UV lights, can help to keep your air clean and fresh.
Air filtration system – This covers more area than a standard air filter and can remove small contaminants like pollen and pet dander from the air.
Air purifier – Electronic air purifiers charge particles in the air to eliminate them from the airways and prevent air blockage sometimes caused by filtration media.
UV air purifier – Kills and sterilizes bacteria and viruses in the air.
Heat recovery ventilator – A way to ventilate the air while pre-heating/cooling it in order to avoid adding too much to your energy bills as you use the AC.
Robbins Heating & Air Conditioning offers indoor air quality installation and service in Colorado Springs, CO.