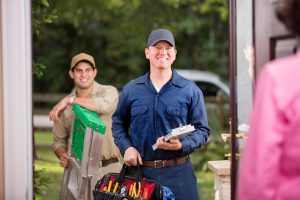 When you live in the Colorado Springs area, you'll find some of the finest local contractors in HVAC (heating, ventilation, and air conditioning) at Robbins Heating & Air Conditioning. If you've reached our site from anywhere else, you might have to do some digging. Not all HVAC contractors are the same, and there's not one single factor, like price, that should influence your decision.
Take time to find the right contractor whenever you need a new system or even just a routine service. We have some suggestions on how you can find an HVAC contractor that will be there when you need help and will provide great service, too.
All the services you need now…
Of course, you should make sure that your contractor offers the service you need, but this can be trickier than you think. Not all HVAC contractors offer both service and installation—sometimes it's only one or the other.
You should also know that just because a company offers that service, it doesn't mean they are qualified. A general "handyman" may agree to take on your AC or heating repair, but if they are not certified, they have no business near your refrigerant line!
…And then some
You should also see that the contractor is someone you could work with in the future if you need additional repairs or a new installation. Look for a company that can become your one-stop shop for air conditioning, heating, and indoor air quality service and installation.
A great maintenance plan
A maintenance plan allows you to know your heating and air conditioning systems are running smoothly all year long. Most HVAC maintenance plans come standard with one or two tune-ups per year. But the best maintenance plans include priority customer service, scheduled calls, and great discounts—like our year-round 15% repair discount for maintenance customers!
Flat-rate pricing
When you're quoted the total price of an HVAC service all at once, you don't have to worry about feeling cheated by a contractor who takes their time on the job or adds on costs you didn't expect to see. Many honest, responsible contractors use flat-rate pricing for the good of their customers and their business, so look for this in any contractor.
A great reputation
You may get a great recommendation from a neighbor, but do your research first. Do a search for your contractor online to find reviews from Google, Yelp, and other top review sites. A great reputation means you can expect an overall positive experience—while a recommendation from a neighbor could just mean they are putting out a good word for their nephew's best friend's brother.
Guarantees and warranties
Want to make sure you really get the service you deserve? A confident contractor offers a satisfaction guarantee on their work. Usually, you can also get a warranty on new equipment and even on repairs, so that the contractor will come back and fix your work or replace your system if it proves to run poorly after a set period of time.
Get service for your home's HVAC in Colorado Springs from the quality contractors at Robbins Heating & Air Conditioning.