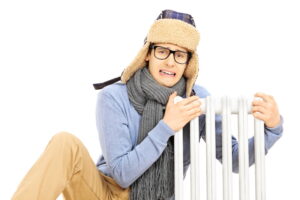 Boilers are a bit like pineapple on pizza, brussels sprouts, and black licorice: you either love them or hate them. One of the reasons why so many homeowners love their boilers is because they're one of the most dependable heating systems available. Because they use fewer moving parts than furnaces or heat pumps, boilers are less subject to wear and tear and last longer than their more modern counterparts. 
If you're a homeowner who loves your boiler and the comforting, radiant heat that it provides, it's essential to know the signs that the performance you've come to depend on isn't quite up to snuff. Let's go over the signs that your boiler would benefit from some TLC from our technicians who just like you, share your love and appreciation for these mighty systems.
Unusual Sounds or Smells
A boiler that's in need of repair will alert your sense of hearing and smell. That's another reason to appreciate your boiler: it gives you strong warnings when something is amiss.
Unusual sounds include rumbling, whistling, gurgling, and rattling. No, your boiler isn't mad at you, paying you a compliment, suffering from indigestion, or haunted. These sounds could indicate a number of issues. It could be something as simple as a sediment buildup that's easily fixed by a boiler flush.
When a boiler emits unusual smells, this is almost always a sign of something serious that warrants a call for repairs. The scent of burning plastic or metal could mean there's an issue with the circuits.
If you have a gas boiler and it smells like sulfur or rotten eggs in your home, there could be a gas leak. Turn off the gas to the boiler, contact the gas company, and then call us. If your home's carbon monoxide detector has gone off, leave the house immediately.
Leaks
Although your boiler works by using steam technology and by heating water, you should never see water leaking from the boiler or around its immediate vicinity. Leaks put a boiler at risk in several ways, not to mention the potential water damage to your home. When you see any leaks, you know it's time to call us for boiler repair.
Delays in Heating
You know your boiler well and in this relationship, you know exactly how long it should take your boiler to heat your home to the level you want. If it seems like your boiler isn't heating your home as quickly or efficiently as it used to, that's a sure sign that something is up. Loss of efficiency is something that usually happens to older boilers, but we'll give it a thorough assessment to determine what the issue is.
If you're not feeling the love you usually feel for your boiler, give us a call. You can reach our NATE–certified repair technicians 24 hours a day whenever your boiler shows signs that it's in need of some well-deserved TLC.
Robbins Heating & Air Conditioning serves Colorado Springs and the surrounding area. Contact us when you need repair work for your boiler.