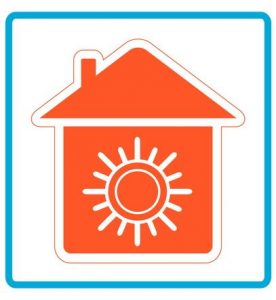 You may be done or nearly done using your air conditioner for the year, but that doesn't necessarily mean you should put it out of mind until next summer. Your air conditioner can benefit from a bit of work at the end of the season, and you'll thank yourself when next summer comes around and your system is ready to go when you need it.
Don't Leave a Dirty Air Filter
First, if your air conditioner has not had a filter change in several months, it's not something you can put off until next spring or summer. A clogged filter blocks air from flowing into your AC system as the blower fan attempts to suck it in. This has a major effect on AC efficiency and performance. It can cause coils to freeze along with other problems you likely don't want to deal with at the beginning of the next season.
Besides, your air conditioning system may use the same blower fan as your heater, which means that dirty filter will have an effect on heating performance as well. Whether or not your central heater shares this component, you can't leave a dirty filter alone for long!
Make Energy Efficiency Improvements
The off-season is always an excellent time to make improvements to your AC and heating systems. Repairing ductwork is one example of an improvement that can make your air conditioner and central heater use less energy. You can also replace that old outdated thermostat with a smart thermostat that you can set remotely from a smartphone.
Some improvements can even be made without the help of a professional technician. For example, when you seal air leaks around the home—adding caulk around windows, for example, or replacing weather stripping in the door frame—you reduce air leaks and make your entire home more efficient.
Replace or Repair as Needed
If you've noticed your air conditioner struggling to work as you need it to during the hotter months, you may feel like you're in the clear now that the season is ending. But the fact is, you're going to have to make those repairs at some point. And it's better to do so now than to wait until the next time you need AC.
Sometimes, the best option is to replace a broken air conditioning system, especially if it will cost hundreds of dollars to fix. Doing this in the off-season is a low-stress way to give yourself plenty of time to find the system you really want—one that's the right fit for your home and carries an efficiency rating that will help you save.
Sign Up for a Maintenance Program
Routine maintenance helps keep your air conditioner in better shape. It includes a tune-up and inspection of your air conditioning equipment, along with a cleaning of the outdoor coil, to make the equipment run more efficiently and prevent repairs.
We recommend air conditioning maintenance in the early spring—before you have to use your air conditioner for the first hot day of the season. But you should still sign up for a maintenance program with a local contractor whenever you get the chance.
Why? A maintenance program offers you two system tune-ups per year—one in the spring for your air conditioner and one in the fall for your heater! It's almost heating season, so even at the end of the year, a maintenance plan will help you to start saving money on heating, and prepare to save money on cooling. Plus, our maintenance program gives you 15% off all repairs throughout the year!
Get your heating and air conditioning tune-up in Colorado Springs from Robbins Heating & Air Conditioning and start saving today.