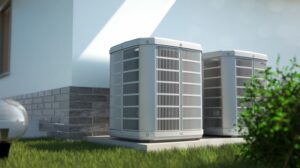 If you know the basics about heat pumps, then you can probably explain one of the big differences between a heat pump and an air conditioner right away: a heat pump works as both a cooling system and a heating system, where an air conditioner only cools. 
However, air conditioners and heat pumps are similar in many ways. They both use refrigerant to work, condensing and evaporating it in two sets of coils, and they have similar components (compressor, blower fan, exhaust fan, condensate drainage) and similar configurations (an interior air handler and exterior cabinet). Outwardly, it's difficult to tell the difference between them. But there obviously are differences—because a heat pump does two jobs where an AC does one.
So what makes an AC and heat pump different? We'll take a closer look below.