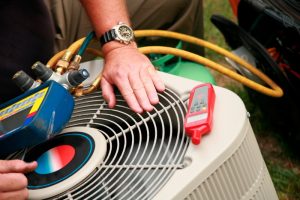 We're here to help you out with your AC problems no matter when they strike or how bad they are. For us, air conditioning repair in Colorado Springs, CO, is just what we do—and we are prepared 24/7 to see that your family stays comfortable and safe.
Not all AC problems have the same level of severity, although it's not often easy for a homeowner who isn't an HVAC professional to determine how bad the situation is. When in doubt, always call professionals to diagnose and fix a problem with your AC. Even if it was a basic issue, you'll still be glad you got expert assistance rather than ignore the trouble or have an amateur tinker with it. (You are included in that "amateur"!)
Below we've presented a range of AC problems and their severity. We don't mean this as a rock-solid diagnosis, but a way to help you grasp how urgent a problem is, when troubleshooting is still a good idea, and when it's time to bring in the pros for repairs or a replacement.
Simple: Clogged filter, misset thermostat
These are AC problems that most homeowners can solve on their own without needing repairs of any kind. Basic troubleshooting will find the problem and fix it. Clogged filters cause numerous troubles, from tripped circuit breakers to low airflow and inferior comfort. All you have to do to fix this is put in a clean filter. (Change the AC's filter every 1 to 3 months to head off future problems.) Simple mistakes when programming the thermostat sometimes escape people's attention, so please double-check the settings.
Basic: Miscalibrated thermostat, tripped circuit breakers, dirty coils
These problems usually require a professional to correct, and they're straightforward repairs the experts can pinpoint quickly and then rapidly execute without having to do any major replacements. Cleaning coils, lubricating motors, checking electrical connections, and recalibrating the thermostat are basic jobs for our pros.
Serious: Short-cycling, leaking refrigerant, nonstop operation
These are common but extremely debilitating air conditioning problems that require professionals on the job as soon as possible. Maybe not an emergency call, but you'll want our HVAC experts out at the earliest convenient time. Short-cycling wears down ACs rapidly, leaking refrigerant will eventually cause a complete system breakdown, and nonstop operation drains immense amounts of power. 
Emergency: "No-Cool," full system breakdown, failing compressor
These are the times when you'll want assistance right away because your comfort is in immediate jeopardy, and your AC may also be close to a permanent failure. In some situations, especially with older air conditioning systems, the only effective repair is to replace the entire unit. A dead compressor often means the end of the line for the AC. An air conditioner that provides no cooling may have a basic repair, but it's not something you'll want to wait on during the mid-summer heat. If your family is too hot or the AC seems to be dying, call us right away.
Robbins Heating & Air Conditioning serves Colorado Springs and the surrounding area. Count on us for AC repairs 24/7 when you have an emergency.