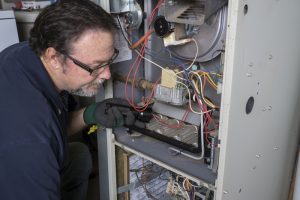 It is time to talk about heating. Yes, really. No, it cannot be put off any longer. We know that we are barely out of summer's torch-like clutch,  but the fact of the matter is that we are going to be back into the heating season before you know it. And you know what that means?  You'll be needing a reliable and effective performance from your heater for the foreseeable future.  Unfortunately, no heater is immune to the occasional operational problem.
What we are going to cover today is some ways in which to keep the need for heater repair in Falcon, CO to a bare minimum. That way, you can take some proactive steps toward living comfortably all winter long, without waiting for the next problem to arrive. And when that problem does arrive, the fact that you've visited our site means that you already know where to turn for heating repairs from some of the finest technicians in the industry!
Keep a Fresh Filter in Forced Air Systems
If you use a forced air heating system, such as a furnace or a heat pump, then it is of the utmost importance that you keep fresh air filter in place. In fact, doing so is so important that we are going to be dedicating an entire blog post to the topic in a couple of weeks! That being said, let us give you a quick rundown.
Your air filter is not there to protect the quality of the air throughout your home. It is there to protect the HVAC system itself. If the filter gets too dirty, pollutants in the air may actually squeeze through the frame and bypass the filter entirely. This allows them to build up within the system. Even if that doesn't happen, the increased airflow resistance is going to wind up putting a lot of unnecessary strain on the heater.
Schedule Annual Maintenance. Yes. ANNUAL.
You know the best way to cause problems with a good heating system is? To skip over the maintenance service that your heater so desperately needs to succeed. We've seen it time and time again. Poor maintenance really drags down great heaters.
When you run a heater day after day throughout a winter season, you need to understand that this system is working under immense pressure and that wear and tear is a serious issue. If you want your system to overcome this wear and tear to deliver on its potential time and time again, routine maintenance is a must.
Work with Qualified HVAC Professionals
The only thing worse than skipping routine maintenance is attempting to do the job on your own or entrusting it to another unqualified party. This is not a time to be cutting corners. In fact, the probability of issues developing with your system as a direct result of meddling with it is why doing so can void most warranties!
Working with our team means that you have qualified technicians that are properly equipped to do the job at your disposal. Contact a member of our team with any questions that you may have.