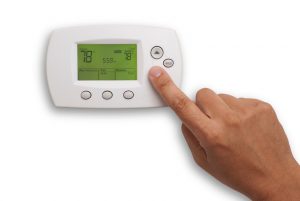 We've offered a lot of tips on how to stay cool and keep your energy bills low this summer, but we'd like to take a different approach today. Raising the temperature, using a ceiling fan, and scheduling routine maintenance are all steps that can help your air conditioner to perform at its best and reduce your monthly bills. But we're here to look at all the ways you can add on to your air conditioner to save even more.
Check out some of the installations we may recommend for air conditioners in Colorado Springs, CO. You may notice better performance from your air conditioner (or heater) in terms of air quality, energy use, and more.
Wi-Fi Thermostats
A Wi-Fi thermostat connects to the wireless internet in your home in order to allow you remote access. So, you'll be able to see what the temperature in your home is if you're at work, on vacation, or out with friends. All in all, Wi-Fi thermostats help homeowners to save money. This is primarily because they are able to make smarter choices about their energy usage and adjust the thermostat accordingly throughout the day.
A Wi-Fi thermostat can learn your settings automatically or you can set your preferences from the thermostat or from within the app. Then, you can make changes as your plans change, so you can be comfortable without wasting energy cooling or heating an unoccupied home. Plus, our smart thermostats are compatible with other smart products from Nexia, so you can check on your home security or your lights from the same application on your smart phone.
Zone Control
A zone control system allows you greater control over the temperature of the various rooms of the home. Rather than a single thermostat and control system to cool the home, you get a thermostat in various rooms, or zones, in order to better sense and change temperatures and in order to make a little more peace in the home. No longer do you have to be subjected to everyone else's heating and cooling preferences if you prefer to keep your bedroom cooler than the others, for example.
A Better Air Filter
Here's one AC and heating upgrade we might advise some homeowners against. A stronger air filter is one with a better MERV (minimum efficiency reporting value). This means that the fibers within the filter might be closer together, so that it can trap more allergens and irritants in the air.
However, this can also block some level of airflow from moving through it. That means that your air conditioner may not work properly. It's always best to consult with a technician before making too big of a change to your air filter.
Air Purifiers
An air purifier will do a more effective job of cleaning the air than the standard air filter, and the right unit won't block airflow from moving throughout your home. Ultraviolet lights kill and sterilize germs in the air that pass by, while ionizers charge particles so they become attracted to surfaces of the opposite charge. This is something we recommend for many households, including those with small children, elderly residents, and people with allergies or compromised immune systems.
Robbins Heating & Air Conditioning offers air conditioner services in Colorado Springs, CO.