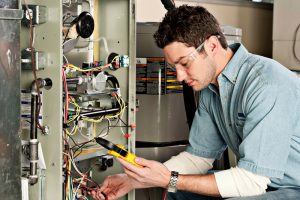 Happy Month of October to you! Have you scheduled your heating maintenance yet?
If you work in the HVAC industry, that is the standard greeting for when October rolls around each year. Spring may officially start in September, but there's something about the dry crisp air of October and the Halloween decorations that make people realize that fall has arrived in full—and it's time for those important fall upkeep tasks. For HVAC professionals, that means telling their clients why their heating in Colorado Springs, CO needs routine maintenance.
We make it simple to have annual maintenance through our Residential Energy Savings Agreement. You'll receive annual or semi-annual HVAC system tune-ups as well as membership benefits: a 15% discount on repairs, special priority scheduling, protection against inflation if the membership fees increase, 24-hour emergency service, and friendly reminders from our staff to schedule an appointment so you won't forget.
But let's go into the big benefits of October heating maintenance, which are the benefits to the heater itself:
Longer equipment life
A heater with regular care from professionals will enjoy a longer service life compared to one that misses out. How much longer? A furnace that would last 15 years without trouble might end up only running for 8 years if it doesn't have maintenance. Missing out on that many years of heating is expensive!
Lower energy bills
As a heating system runs through one cold winter after the other, it starts to decline in efficiency. It works harder to do the same job, and that means you'll see a rise in the cost to operate it. Maintenance slows this down so you'll pay less to run the heater. Most heating systems that have regular maintenance will keep 95% of their original efficiency until they're ready to be replaced.
Reduced need for repairs
Another benefit of preventing the heater from aging rapidly is that you'll prevent the majority of repairs the system might otherwise need. This saves money as well as prevents interruptions in your comfort when you need the heater the most.
Stop surprise breakdowns
Speaking of comfort interruptions … the last thing you want to happen during one of the coldest evenings of the year is to have the heater stop working. You have access to 24-hour repair service from us, but we can't be there instantly and sometimes the heater may be beyond basic repairs. Maintenance gives you the best defense against this kind of unexpected failure.
Safety
If you have a gas-powered heating system—which most homes in the area do—maintenance inspections are critical for keeping the heater working safely. You never want to put your household at risk because of a poorly cared-for furnace!
Warranty protection
You may void the manufacturer's warranty on your heating system if you allow it to go without maintenance—and that can mean you'll have to pay for repairs that the warranty would've otherwise covered, including a replacement for a faulty system.
Robbins Heating & Air Conditioning serves Colorado Springs and the surrounding area. Call us to sign up for our Residential Energy Savings Agreement.