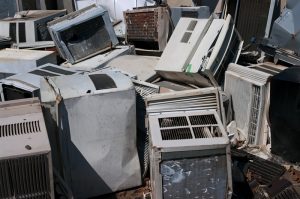 The second half of summer is when you are more likely to encounter a malfunction with your air conditioning system. This makes sense, as the AC has been hard at work for at least a few months, and wear on the system can cause small problems to start to worsen. (Another reminder about why spring air conditioning maintenance is so vital.)
If you have a large-scale air conditioning failure at this time of year, you'll probably face a big question: When do you need a new air conditioning installation in Colorado Springs, CO, and when can you continue with your current system for a few more years, investing in an occasional repair? It's not always an easy question to answer, and it's one you should never rush to answer. You'll need more information as well as the assistance of skilled HVAC technicians.
We'll explore more about this question below, but please call our team to examine your broken AC and see what the best path forward is.
When Replacement Is the Better Choice
The first important piece of information, one that will affect all your other decisions, is the age of the air conditioner. Average service life for central air conditioners is 10 to 15 years, with warranties covering 10 years. With regular maintenance, most air conditioners can reach 15 years. After that point, it's a good time to consider replacing it—and a failed AC is probably the best time to have it done!
If the air conditioner is an old R-22 unit, it needs to be replaced. The refrigerant blend R-22 is no longer in production and repairing a broken R-22 AC is expensive and sometimes impossible.
The cost of the repairs needed to get an AC working may be too expensive to be worth it. What counts as "too" expensive varies, but a good rule of thumb is not to pay more for a repair than half of what it would cost to get a new system.
When Repairs Are the Better Choice
An air conditioning system that's under 10 years old and still under warranty can usually be repaired at a reasonable cost so the system will continue to work up to 15 years. That's the age target to keep in mind. Your technician will be able to tell you how well the new repair will keep the system going—you don't want a fast "patch job" but a repair that will hold together for the rest of the system's lifespan.
There are many small types of repairs that won't have a long-term impact on the AC, such as replacing old capacitors or making fixes to the wiring. Technicians will be able to tell you if a repair is worth the cost and how long you can expect to have the system run without troubles.
Call the Professionals
You can trust to our HVAC technicians to be honest with you about the "repair or replace?" question. We have a long history helping customers achieve the best in comfort.
Call Robbins Heating & Air Conditioning for AC service—repairs, replacement, maintenance. We serve Colorado Springs and the surrounding area.