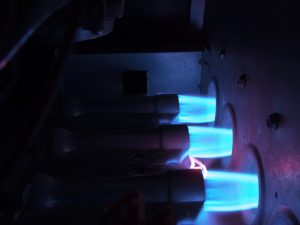 A new HVAC system may seem like a scary prospect. Finally, you'll get the warmth and efficiency you need from your home comfort system, but can you really afford such a major investment?
No heating system will live for decades without trouble, and every comfort system needs replacement eventually. If it's time for a new heating system or a new air conditioner, you're in luck. Let the local technicians at Robbins Heating & Air Conditioning help you get the system you need.
Ask about our financing options, and call today to work with a company that cares. Read on to learn when it's time to replace an older heater.
How to Tell an Older System Needs Replacement
The fear that comes with having a heating or air conditioning system that is rather old is that it could break down at any moment. You never know if your air conditioner or heater will suddenly stop working when you really need it. And that's when it's most likely to—when your air conditioner is working it's hardest in the middle of summer, or when your heater is running nonstop in the winter.
It's better to learn to detect the problem early so that you don't find yourself calling a technician at a time when heating and AC companies are already quite busy anyway. It may be time to replace your equipment if…
You make several costly repairs each year. If it seems like those repair bills are piling up, it's likely much more cost effective in the long run to get a replacement system. Yes, the upfront cost is higher, but the savings over time are worth it. With a qualified company to install it, your new HVAC equipment is unlikely to break down any time soon.
A repair will cost about half the total price of a new system. High repair costs can be a burden. What's worse is that a major repair or replacement part is unlikely to hold up for very long anyway. The mismatched component may only cause extra strain for the older system, and additional components may start to fail as well after a short perios.
Your HVAC equipment is quite old. As ACHR News points out, HVAC systems may not last as long as we think they are supposed to. It depends on the manufacturer, but a furnace or central air conditioner may only last about 10-15 years, while a boiler can work efficiently for longer. After this point, replacing the system is a proactive way to avoid a sudden system breakdown.
Finding the Right Company for Heating/AC Installation
You may want to get a second opinion if a technician recommends a system replacement, but for the most part, they are looking out for your best interest. Find a company you can trust, with a wide range of financing options and a good reputation within the community.
Finally, choose a company with financing options to help with your purchase of a new piece of HVAC equipment. Buying a new heating or air conditioning system may seem stressful, but the right company makes it easier.
Robbins Heating & Air Conditioning offers AC and heating services in Colorado Springs, CO. Financing available on approved credit.